If you are an entrepreneur and worried about your business growth, building your brand is one of the essential keys to that. When it comes to establishing a brand, a website stands as the cornerstone. Making your business website visible to potential buyers and searchers is the most obvious way to grow your brand.
How do you make people find your website and visible when they search for it? SEO for the website!   When it is said that around 3.5 billion searches are carried out every day on Google, SEO is considered a viable marketing strategy for improved traffic.
Let us see what is meant by SEO for website and optimizing your website for it.
Understanding SEO
SEO or Search Engine Optimization refers to the set of techniques that are used to improve the ranking of a website on the search engine's result page. It is intended to improve the visibility of a web page or website on a search engine result page, thus makes the website of a company discoverable by the searchers. Thus, it helps in driving sales and traffic for the website.
In other words, you can say that Search Engine Optimization is the methodology of proving the search engine that you have the best website and it is the relevant result for the particular query of the people searching for it.
Why Is SEO Important For Businesses To Survive And Thrive In The Competition?
What can you expect when you start putting the efforts into an SEO strategy? Why does it stand as a popular way to improve your visibility on major search engines, especially Google? The experts say that SEO is extremely important when you think about building a website for your business. If you seek the importance of SEO for your website, there are many that bring benefits to the business owners. Some of the important beneficial points are listed below.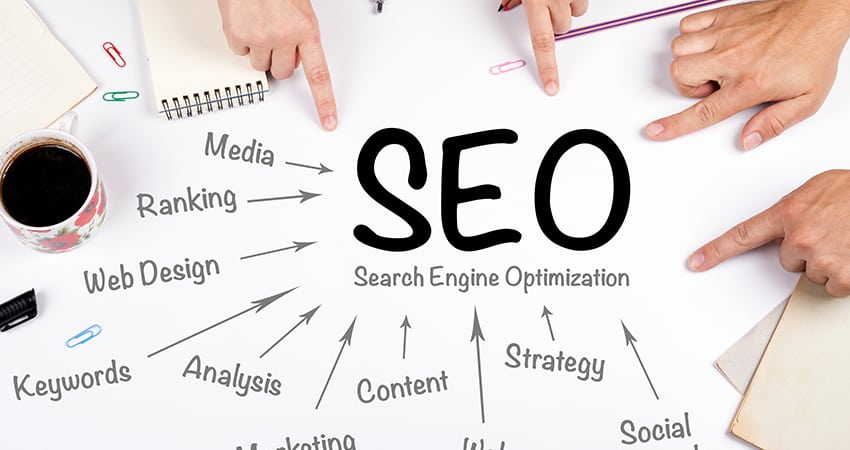 Organic web traffic is important
SEO is quite essential for any business because it brings organic web traffic to the business. When it comes to the term organic, it means that anything that is unpaid on the internet, particularly the things that are focused on user flow, is said to be organic.
Since SEO involves optimizing the content with keywords, search engines like Google direct the users/searchers towards those web pages where the searched information of the users exists. Thus it helps the website to increase both quality and quantity web traffic.
Cost-effective methodology
Since SEO is all about targeting the people who are in search of products or services online, it is a cost-effective marketing strategy. In contrast to outbound strategies such as cold calling, SEO helps businesses to save money on their budget. Moreover, it is aimed at the people who actively seek products/services; it is also useful to bring qualified traffic to the website.
Brings in more sales
Local sales are the obvious target for local businesses. Hence it becomes very essential to optimize the website based on the searches. If you are a local store and you haven't taken the advantage of Google searches with top keywords in your niche, then you are directing the sales to your competitors.
With proper optimization of your website, you can make sure that your store is visible to the local searches who specifically search, and thus your business is visible easily, getting more sales.
Enhances user experience
User experience forms a crucial component of SEO and of course, it is a vital Google ranking factor as well. Positive user experiences are the most essential elements for the success of a website. And since SEO involves optimizing the website with great attention to positive user experiences, you will result in a good ranking.
Builds credibility
If you look at searchers on the internet, around 70-80% of people put their focus on organic results. This means they give preference to the organic search results that are displayed on the top of the search results, rather than clicking to paid ads. If you rank higher in the Google result pages organically, you mean to establish your business credibility in the eyes of the searchers. Moreover, it brings them the thought you are the best and trustworthy leader in the industry as you have invested the efforts to appear on the top, but not simply paid for the ad.
Essential Points That Make SEO Strategy Work For Your Website
No matter what industry type your business belongs to, there are some universal optimization tips for your website. Here are some.
Get to know what your target audience is looking for and pay attention to the current market trends.
Those days where you stuff the keywords to get a quick spot on Google are no longer available. Google algorithms are not showing interest in such enormous keyword usage in content. But it puts its core focus on finding the web page that contains information relevant to what the users are looking for.
If your website is structured well, its navigation is good and easy for users, it is easy for the web pages and subpages of the website to be easily identified and indexed by the crawlers of search engines.
By building every web page around a single theme helps in identifying a page easily. It becomes easy to classify the page and bring it to a relevant search.
Choose the keywords wisely when you want to optimize each page. Analyze and find out the keywords that are most likely by people to find the information provided in your web pages.
Also read:
Leverage SEO For Website And Reap The Benefits
SEO implemented websites will have long-term benefits and they will deliver impressive sales rates and remarkable returns. Search Engine Optimization is no longer just a trick to increase the traffic of a website. But it is one of the best ways to make sure that your business website stays on the top of search results Google and remains organic. When you can gain top spots, you will become capable of attracting more visitors and convert them into customers.